What is radio frequency?
Radio Frequency Skin tightening treatments utilize RF energy to heat up different layers of the skin which results in skin tightening, New collagen wrinkle + Laxity reduction.
What to expect:
You will notice a change in your skin that will appear immediately after the first treatment and will continue to improve for weeks to come. Lax skin will be firmer and more toned, not to mention healthier and younger looking, while wrinkles will be considerably reduced.
WHAT DOES THE RADIO FREQUENCY SKIN TIGHTENING PROCEDURE INVOLVE?
Radio frequency (RF) skin tightening treatment takes about 30 to 60 minutes and is designed to achieve maximum comfort for the patient. The patient only experiences a slight sensation of warmth while a wand is waved over targeted areas of loose skin, cellulite or fine lines or wrinkles.
Areas:
Chin Jowls
Neck Tightening
Forehead + Brow Lift
Abdomen + Flanks
Upper Arms + hands
Buttocks lift
Inner + outer thighs
Cellulite + stretch marks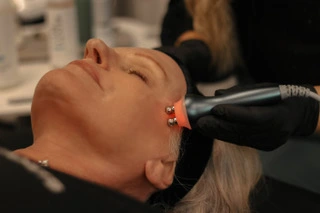 HOW MANY TREATMENTS WILL I NEED?
We recommend a series of four to six Radio Frequency Skin Tightening treatments, approximately one to three weeks apart, with the best effect being seen three to six months following the final treatment.